Live in Amsterdam
( Pictures Supplied by Jürgen Degasperi )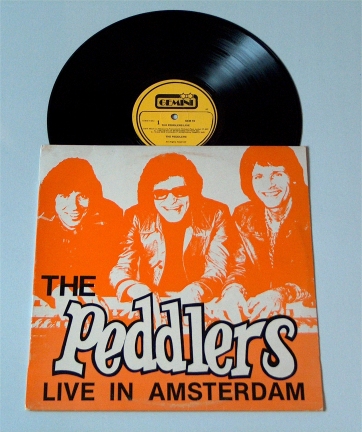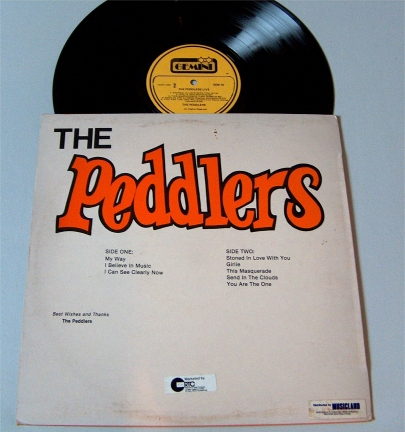 | | |
| --- | --- |
| Side 1 | Side 2 |
| | |
| My Way | Stoned in Love With You |
| I Believe In Music | Girlie |
| I Can See Clearly Now | The Masquerade |
| . | Send In The Clowns |
| . | You Are The One |
This rare album occaisionally comes up for sale and is one of the most sought after Peddlers records. Thanks to Roy Phillip's for his own memories of the record:
"'Live in Amsterdam' was recorded by a producer called Cees Bodoux. I Can't remember the date of recording. I have only heard it once, that was many years ago. But I remember it was a hell of a night, the scene was alongside a canal and I think it was open air club venue just on the borders of Amsterdam city.
The cover, if I remember was the very last British musos trip we made to Holland. They were Peter Dennis (Bass) Ed Spevock (Drums). But they were not the group that recorded that particular work, I can only think of one of the group, Kevin Healy (Guitar). Kevin was before that the band leader for the Starsky and Hutch (blond singer) that I believe sang country stuff and had some minor hits. Sorry about the lack of details, it was so long ago for this 'old boy' to recall exact details. Love to all. Roy"
This album should not be confused with a bootleg recording called ' Live Concertgebouw Amsterdam 1972'. The tracks on that recording are: Let the sunshine in/Day in day out/Who can I turn to/People/By the time I get to Pheonix/Milestones/Last train to Clarksville/Have you ever been to Georgia?/Girlie PS I love you my girlie/Bridge over troubled water