The Peddlers Story
The three members of the Peddlers first met in a Manchester music shop. All three were looking for a new venture after their previous bands had folded. Following the teaming up the band began rehearsals with the clear intention of developing a new approach. Phillips described their syle as "blues based with a touch of rock and jazz ............ we are trying to set trends".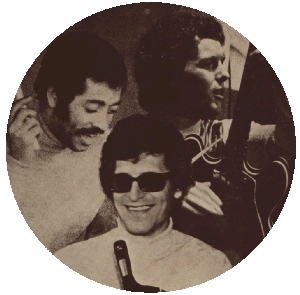 The debut single "Let the Sun Shine In/True girl coupled an energetic r&b track with an uncomfortable attempt at merseybeat and started a run of five more singles and an EP for the Philips label, most of the which are collected on the 1968 compilation album "The Fantastic Peddlers". Highlights of which include Phillip's "Whatever Happened to the Good Times" and "Anybody's Fool".
In 1966 the group began a residency at Annies Room in London also playing the Scotch of St James and the Pickwick where the groups first album "Live at the Pickwick" was recorded. The album is a perfect "you are there" document of the mid-sixties London club scene complete with a trying hard to be hip Pete Murray introduction and a semi celebrity audience.
The Peddlers reputation as a live attraction spread and after becoming the first Brits to play the Flamingo in Las Vegas a deal with CBS was signed. The first album for CBS "Freewheelers" contained eleven cover versions of mainly standards with one original song. The follow up "Three in a cell" followed suit although this time Phillips provided four of the eleven tracks. The group also continued to release regular singles several of which were minor hits.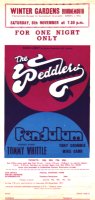 The last album for CBS 1970's "Birthday" came complete with risque cover (ooh missus!) with the music ranging from folk to jazz. Back at the Philips label the group released the excellent "Three for all" which included "Tell the world were not in" featured in the film "Goodbye Gemini" which joined "The Lost Continent" from "Three in a Cell" as a Peddlers film theme. The group were as busy as ever on the live front as documented by Phillips on "Working Again".
The next release was "Georgia on my Mind" a straight reissue of "Live at the Pickwick" and was followed by the ambitious "Suite London" recorded with the London Philharmonic Orchestra. After Morais quit the group and with new drummer Paul Johnson in tow The Peddlers released their final album "Live in London". The mid seventies however was a different place and the group called it a day soon after "Live in London" was released.
The Peddlers were an underrated group who had in Phillips an excellent musician, vocalist and writer and in Martin and Morais a rhythm section second to none. They left behind some great records, a enviable live reputation and were a true sound of the 60's.