Faron's Flamingos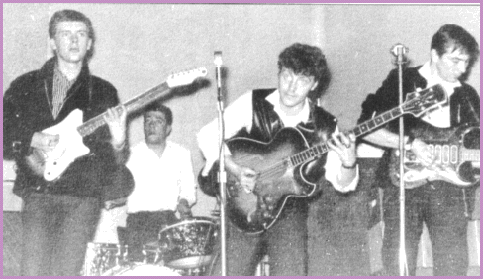 Faron Ruffley - bass guitar/vocals
Paddy Chambers - guitar
Nicky Crouch - guitar
Trevor Morais - drums

Trevor Morais played the drums for Faron's Flamingos the merseybeat group who claimed to have the first British cover version of a Motown song with "Do you love me?"
Against the group's wishes the song was relegated to a b-side. After hearing the record and in exchange for a double scotch Brian Poole asked Faron to write the lyrics down for him. Within a few weeks Brian had a number one hit on his hands with the Flamingoes left firmly in the starting blocks. It has to be said though that the drumming on the Flamingos version is a cut above what the average merseybeat skinsman could offer and is similar in many ways to what Trevor would do with the Peddlers.
Trevor Morais recalls "Faron wore sunglasses and t-shirts on stage long before anybody else. He'd jump up in the air and land on his knees. I thought he was a great, exciting performer".
And as Flamingoes guitarist Paddy Chambers remembered Trevor was no slouch either "Trevor had a habit of doing mad things in the middle of a number, and one of his favourites was a backward flip off his drumstool. We were playing in a marquee with the Hollies and his drums were near the wall of the tent. He did his backward flip and disappeared. He came back covered in mud".
Faron's Flamingoes released the following two singles
See if she cares / Do you love me? Oriole CB 1834 August 1963
Shake sherry / Give me time Oriole CB 1867 October 1963
Faron Ruffley was a semi-legendary figure in the Liverpool area (he was nick-named "the panda-footed prince of prance"), and his group had a fine uninhibited style. Both of their singles were interpretations of song originally issued by US group The Contours.
The group folded at the end of '63 when Faron and Paddy both left to join The Big Three, while Crouch joined The Mojos.